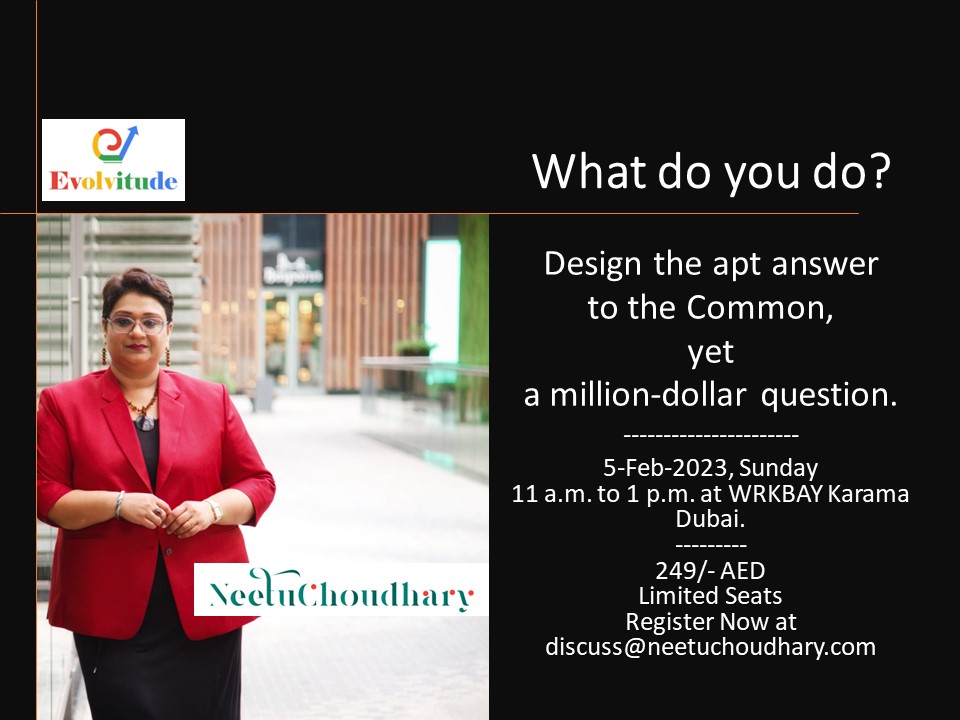 This is the first question you will be asked by anyone new you meet. This is the most common question and yet a million-dollar question. The answer to it creates the first impression. And usually, a first impression is lasting.
This common question is asked at.
Client meeting
Networking events (prospect clients)
Investment meetings
New Partner, Supplier Meeting
Interview
Takeaway
Learn to design a more compelling answer to this important question.
Understand how to make a lasting impression.
Learn how to promote yourself and your work.
How to inform people about what is true
Recognize how and what your best gift is to others.
5-Feb-2023, Sunday. From 11 a.m. to 1 p.m. WRKBAY Karama Dubai.
249/- AED, Limited Seats
REGISTER NOW or Contact at discuss@neetuchoudhary.com

Scan QR code to Register Now
You want to make the best impression, be authentic, and open doors for new opportunities. This workshop is for you to design an apt answer. Learn to answer this million-dollar question to lead the conversation and create a meaningful connection.
Brief intro about Neetu Choudhary
Neetu helps organizations improve revenue by motivating and upskilling employees. She has more than 20 years of experience. She has left a highly-paid job at a renowned organization in Dubai to embark on an entrepreneurial journey for a cause bigger than herself.
Her work is based on neuroscience, behavioral science, neuroplasticity, NLP (Neuro-Linguistic Programming), emotional intelligence, positive intelligence, and a growth mindset. She is a certified organizational coach, a certified NLP practitioner, an emotional intelligence coach, and a hypnotherapist. She holds a Master's degree in Computer Applications, a Six Sigma Black Belt, and is an EFQM Certified Assessor. She is a team leader and senior assessor for various international business excellence awards like DQA By Dubai Economic Development, SKEA Abu Dhabi Chamber of Commerce, MRM by Dubai Chamber of Commerce, TAQDEER Dubai Ministry of Labor, UAE Innovation by Dubai Quality Group, ASQ ITEA by American Society of Quality, Steve Awards USA, etc.
She has won various awards; some to mention are Best Public Speaker 2022 by Global Women Leadership Awards, Life Coach of the Year 2021 by Lifestyle Fiesta, and Top-rated Speaker by ISACA USA for many years. The Brand Ambassador Award, the CR Champion Award, and the Self Development Award by DP World. She has spoken across the globe, has been featured in international magazines, and has published more than 100 articles. Neetu is an author, speaker, and thought leader.
Client Testimonials
Neetu is one of the most inspirational women I know! She has the magic to capture the audience from the first second till the very last with her warm, practical and knowledgeable approach. She adds value to every single attendee in her workshops and sessions. We are so excited to work more with her in future!